Quality
Premium quality starts with a focus on health and safety.
Ice, everyone may know the recipe but the processes to mass produce, satisfy market demands and produce quality, safe for consumers ice is much more complex. Getting those components right is the proverbial secret sauce of packaged ice products. Whether for our own valued employees, the customers we're so fortunate to serve, or a consumer enjoying our ice, delivering health and safety is unquestionably the first priority at Arctic Glacier®.
Ice is Food
Consumers and retailers alike are often surprised to learn the FDA considers packaged ice a food product. As a food product, packaged ice must comply with federally mandated sanitary and hygienic practices to be safe for consumers. Now, more than ever, consumers are demanding transparency into the safety and quality of products they purchase, especially food. However, achieving compliance with regulatory agencies can be a daunting, expensive process.
Production and Packaging Best Practices
As North America's leading packaged ice manufacturer we leverage over 140 years of expertise to ensure our ice exceeds quality and safety requirements of the International Packaged Ice Association and governing agencies. At all our North American facilities, we conduct rigorous monitoring of our production process which encompasses comprehensive testing. Each facility has a "Certificate of Compliance" from the local water company validating the quality of their product.
Product and Packaging Quality Assurance
Within our production processes, we execute various Q/A measures to further validate the integrity of our product.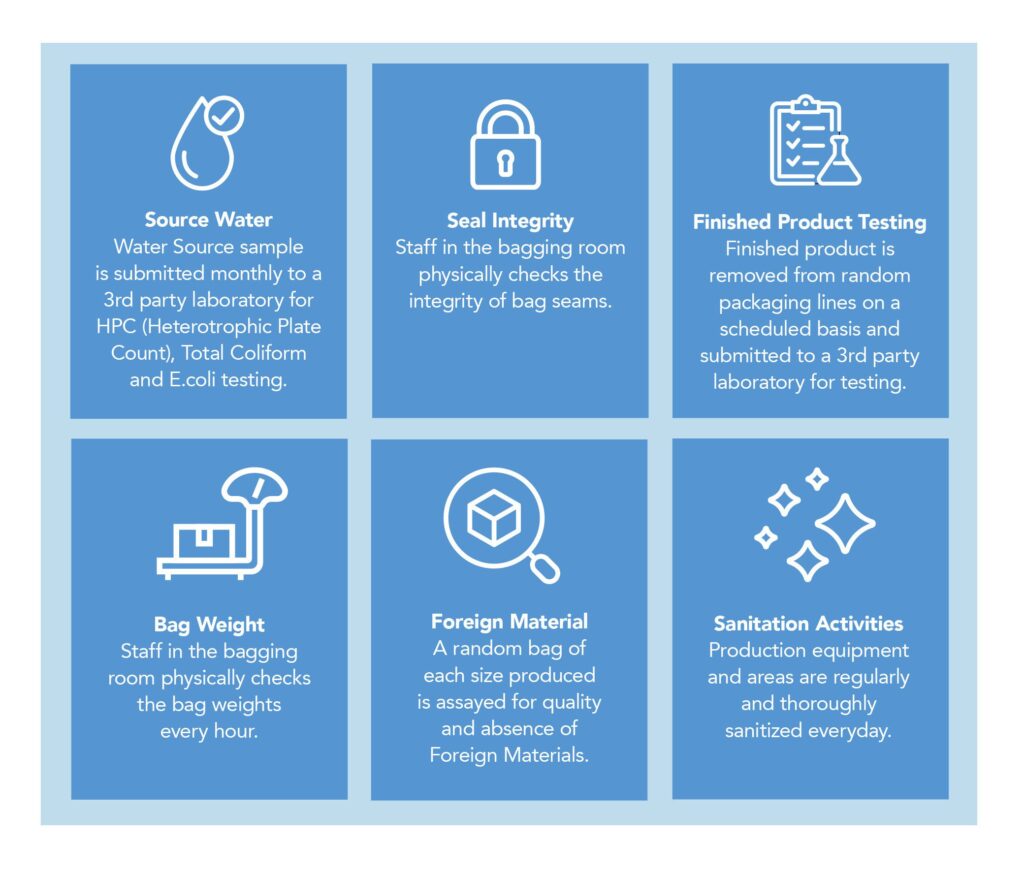 Learn more about about Arctic Glacier production best practices.
Locations
With more than 100 facilities across North America and 2,500 employees ready to help, Arctic Glacier® has the resources and reach to be there whenever, wherever and however you need.
Learn More
Products
At Arctic Glacier®, we produce and deliver ice in many forms, totaling two billion pounds annually. But at the end of the day, there is one thing and one thing only at the core of every product we provide to our valued customers. Water.
Learn More