GO CASHLESS WITH ARCTIC GLACIER
As part of our Bring More. Care More.TM mission Arctic Glacier is deeply committed to business solutions that reduce our carbon footprint.
A SIMPLE WAY TO PAY YOUR BILL
Our new online billing and payment portal provides easy account management. Get access to your account on your mobile device to view invoices, make a payment and check balances. It's free,
easy and secure.
Haven't enrolled yet? Sign up today!
How to Enroll
Step 1: Sign Up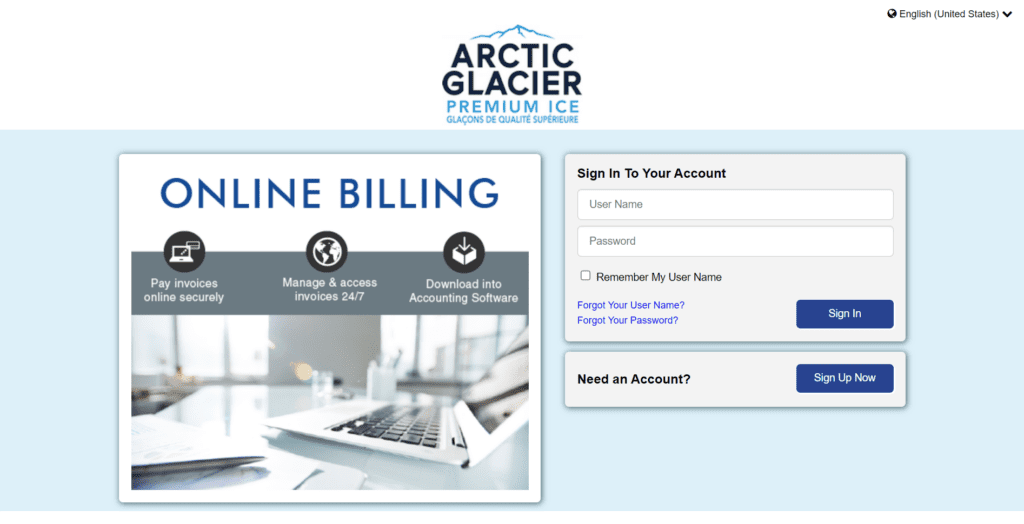 Step 2: Register
Required Documentation to Proceed: Arctic Glacier invoice or statement from
the last three months
• If you need assistance, contact billing support at 1- 888-221-3532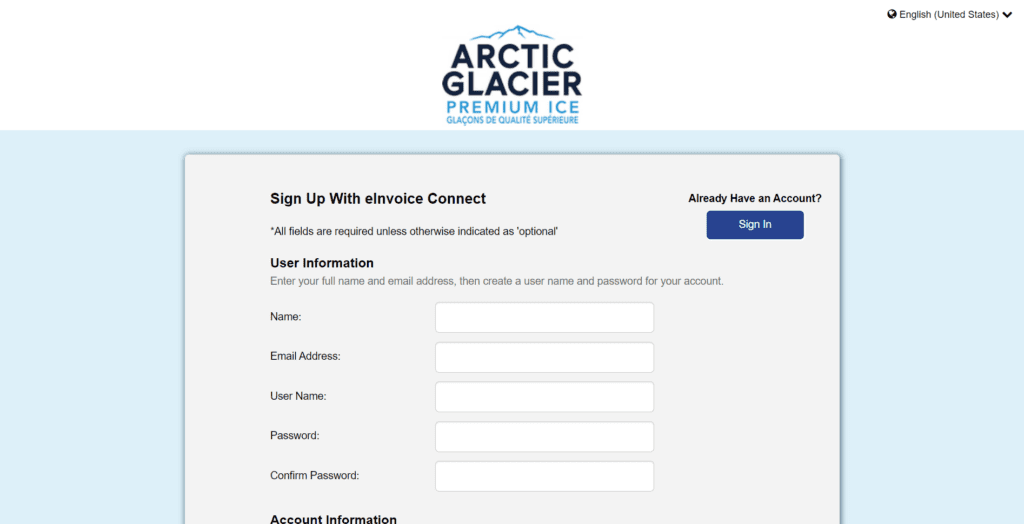 Step 3: Auto Pay Enrollment
• Log into newly created account to enroll in Auto Pay (go to "Settings" then "Payment Settings" to enter account information)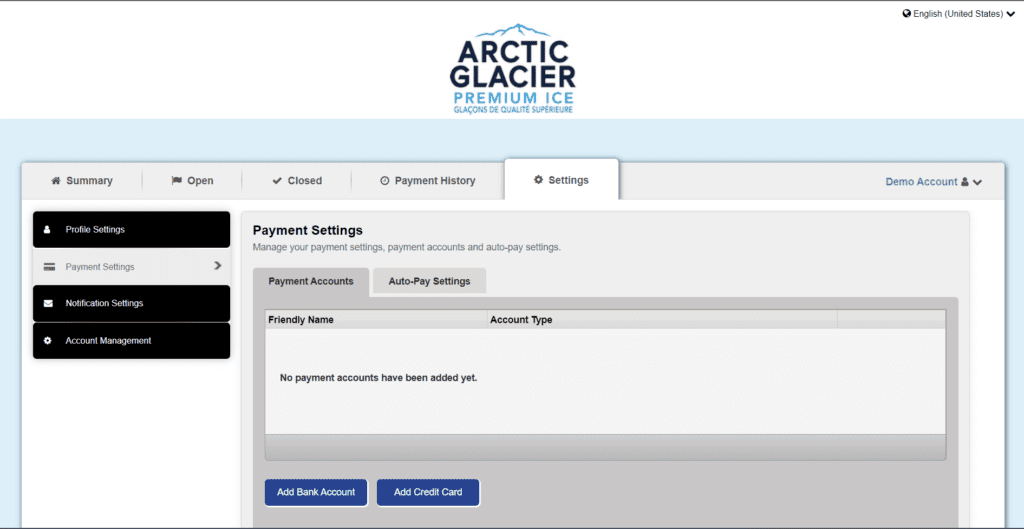 Step 4: Adjust Auto Pay Settings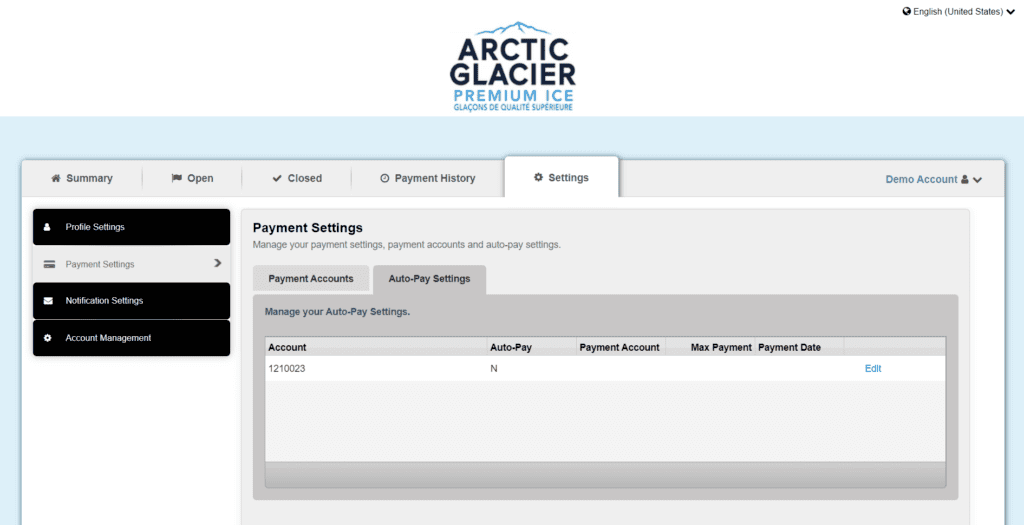 Change settings to the following and "Save":
• Auto-Payment: Enabled • Payment Account: Select account• Payment Date: Due Date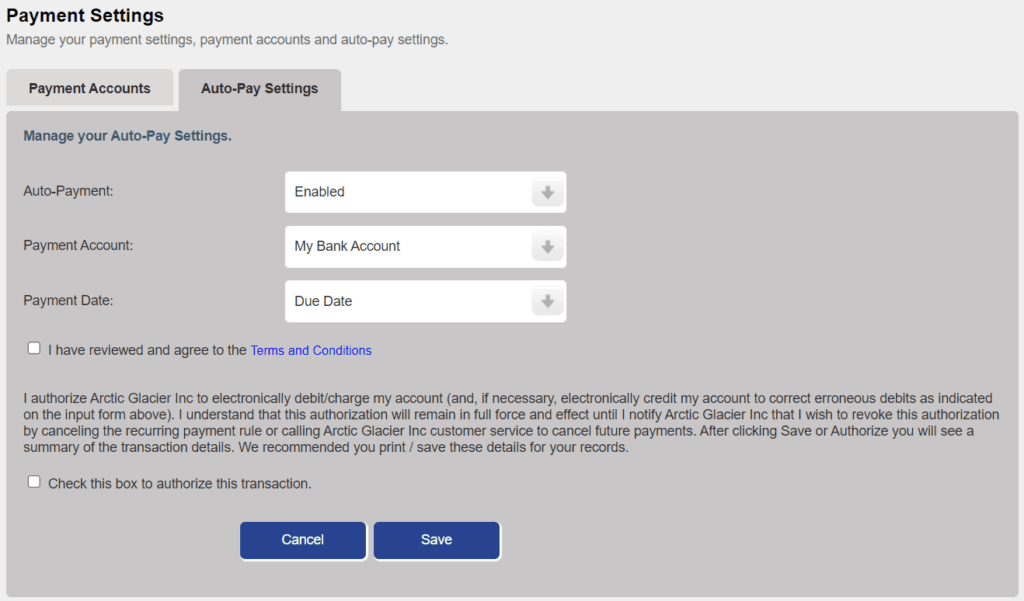 Congratulations! You are now enrolled!
Questions? View the FAQs below or contact us at 1-888-221-3532
FAQs
If I am COD, do I have to enroll in AUTOPAY?
All COD customers, whether they currently pay by cash, check, or credit card are
being transitioned over to our AUTOPAY system using our dedicated Billtrust portal.
How are payments processed using AUTOPAY?
Once enrolled in AUTOPAY, following the delivery of products, payments will automatically be processed. A receipt will be automatically emailed to you for your business records. Should any questions arise about the payment, please call our Customer Care Center at 1-888-221-3532.
What forms of payment does AUTOPAY accept?
Within the Billtrust portal, customers may select ACH Debit using their chequing account information or sign up using a credit card*. Billtrust's portal accepts Visa, MasterCard
and Discover.
*Credit Card Convenience Fee may apply.
I'm already paying by credit card, what do I need to do?
Customers currently paying by credit card will be transitioned to our dedicated Billtrust payment portal to enter their credit card information.
If I am COD, do I have to apply for credit?
COD customers are not required to apply for credit. Instead, we are transitioning our COD customers over to cashless transactions that will be automatically processed through the Billtrust portal.
If you would like to see if you are a candidate for credit please speak to your local sales representative, or one of our Customer Care Associates at 1-888-221-3532 regarding options to apply for credit. Our credit application is easy to complete and will be reviewed by our credit department prior to qualification.
If I don't qualify for credit, how do I pay? Can I use one-time payments?
All COD customers are being moved over to AUTOPAY through our dedicated Billtrust payment portal. Customers can sign up for recurring payment, so that after each delivery the payment will be automatically processed from your account.
Will you still accept checks?
Customers without a credit account will no longer be able to pay by giving their driver a check.
We are pleased to offer all customers the option to pay by e-check through our Billtrust portal.
To select this option, you will be prompted to enter your chequing information within Billtrust portal when enrolling in AUTOPAY.
Customers paying off their credit accounts can still send payment to our remittance address:
Arctic Glacier Canada Inc.
C/O W8117
Main Post Office
Winnipeg, MB R3C 4W7